Douglas Anez, DVM

Dr. Douglas Anez is originally from Little Falls, Minnesota. He attained his undergraduate degree in Equine Studies and Animal Science from the University of Minnesota and Colorado State University, and his Doctor of Veterinary Medicine from the University of Minnesota in 1995. After graduation he traveled to Zurich, Switzerland to work at an equine medical and surgical facility whose clientele included many Olympic dressage and show jumping performance horses. Dr. Anez then joined one of the largest practices in the state of Washington as an associate in equine medicine and lameness. In 1997, Dr. Anez moved to Exeter, CA to start Pacific Crest Equine, the only practice in the area to be devoted specifically to horses, with a special emphasis on treating lameness in performance horses.
---
Taryn Holliday, DVM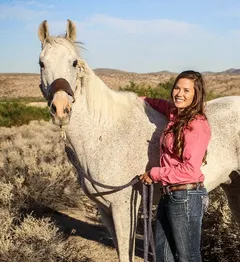 Dr. Taryn Holliday grew up on a ranch just outside of Barstow, California. She has owned and competed on horses her entire life. Dr. Holliday attended Colorado State University where she was on the rodeo team, worked at the equine reproduction lab, and graduated with a Bachelor's of Science in Microbiology. She then returned to California and attended vet school at Western University of Health Sciences, from which she graduated in May 2018. She has a particular interest in equine wellness care, podiatry, and emergency/critical care.
When she isn't working, Taryn enjoys spending time with her family, friends, and horses Jet, Zeke, and Spark with whom she likes to team rope and barrel race.
---
Andria Lessler, DVM
Dr. Andria Lessler grew up in North Carolina competing as a Three-Day eventer and working as a groom as several training and breeding operations to fund her love for horses and the sport. Dr. Lessler's other passion is surfing, which brought her to California where she surfed and worked as a professional baker for 10 years prior to veterinary school.
During veterinary school Dr. Lessler worked as an Equine ICU technician, and performed veterinary outreach work with horses, mules and donkeys in under served communities in the mountains of Mexico, the coast of Nicaragua and the Plains of the Dakotas.
Dr. Lessler graduated from UC Davis Veterinary School in 2019 where she received the American College of Veterinary Surgeons Senior Student Large Animal Award and the Northern California Association of Equine Practitioners Award for Clinical Proficiency. Dr. Lessler is thrilled to join the Pacific Crest Veterinary Team.